this post contains affiliate links
As we have been discussing food dehydration, one brand of food dehydrating machine is creating a buzz among consumers: Excalibur®, claiming to be America's best dehydrator. In this article, we will feature the Excalibur 3926TB 9-Tray Electric Food Dehydrator. Check price on amazon
The Excalibur 3926TB 9-Tray Electric Food Dehydrator is manufactured by The Legacy Companies USA and is a factory direct exclusive model. Since 1973, Excalibur has been manufacturing food dehydrators in Sacramento, California.
The unit comes in black although a similar unit in white bears the model number 3926TW. It is available online through Amazon and other online shops.
This particular unit comes with 9 trays, a 26-hour timer, and a Guide to Dehydration book. It is ideal for families, backpackers, craftsmen, and food drying enthusiasts.
FEATURES
This food dehydrator measures 12.5" high x 17" wide x 19" deep. It weighs 22 lbs. It is made out of Polycarbonate Food Safe Plastic and it fits on kitchen countertops or cabinets at home.
The 9 large trays measure 15″ x 15″ and are made out of Polypropylene which is way stronger than the ordinary plastic and is BPA free.
A 26-hour timer is located on top of the unit. It automatically turns off when the set time is up, so there's no worry if you forget about what you're drying.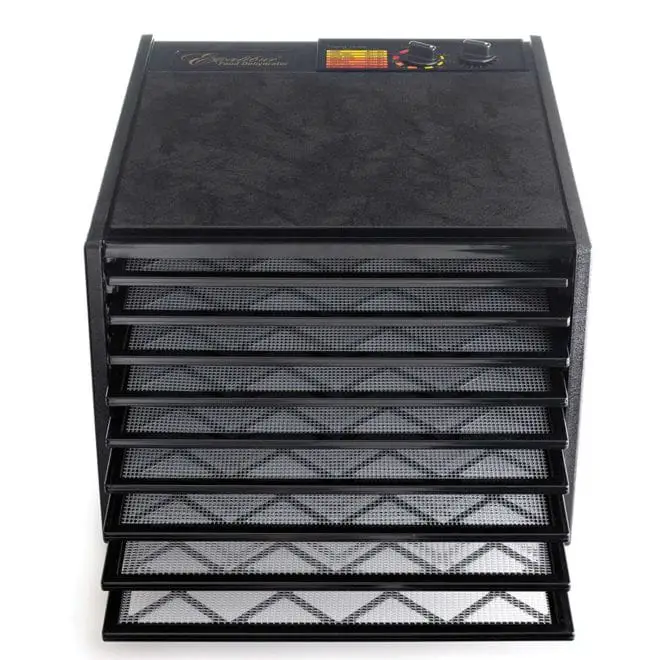 This dehydrator prides itself on its Excalibur Hyperwave Fluctuation Technology in its thermostat which makes it adjustable. The temperature ranges from 105 degrees to 165°F. It keeps the food temperature low enough to keep the enzymes active but the air temperature gets high enough to dry food and meet safety standards in meat dehydration. This way, it overcomes yeast, mold, and spoilage.
Ordinary dehydrators produce constant, unchanging heat causing "case hardening". It means that the dried product has a dry surface with moisture trapped inside. This condition becomes a perfect environment for yeast, mold, and bacterial growth.
Excalibur's patented Parallex Horizontal Airflow provides fast, even dehydrating. The 7-inch fan, heating element, and thermostat are located in the back. Cool air is drawn in, heated, and distributed evenly over the trays. It runs on 110-120 volts of current with 600 watts of power. According to the manufacturer, electricity consumption is approximately 3 to 6 cents an hour.
Purchase includes a limited 10-year warranty.
PROS
Because the fan is located at the back, the food dries more evenly than other brands. You don't have to rotate your trays from time to time and you wouldn't have to worry about drippings to the fan, unlike other food dehydrator models.
With 9 large trays, it provides more drying capacity. It does an excellent job dehydrating almost any food. It can also be used for incubating yogurt, rising bread dough, drying fruit and sauce leathers and herbs. The end product comes out great in terms of flavor, texture, color, and odor. With the 26-hour timer, you can dry food endlessly.
It is well-constructed, simple to use, and easy to clean. It is relatively quiet, it's not silent yet the noise is not that annoying in the kitchen.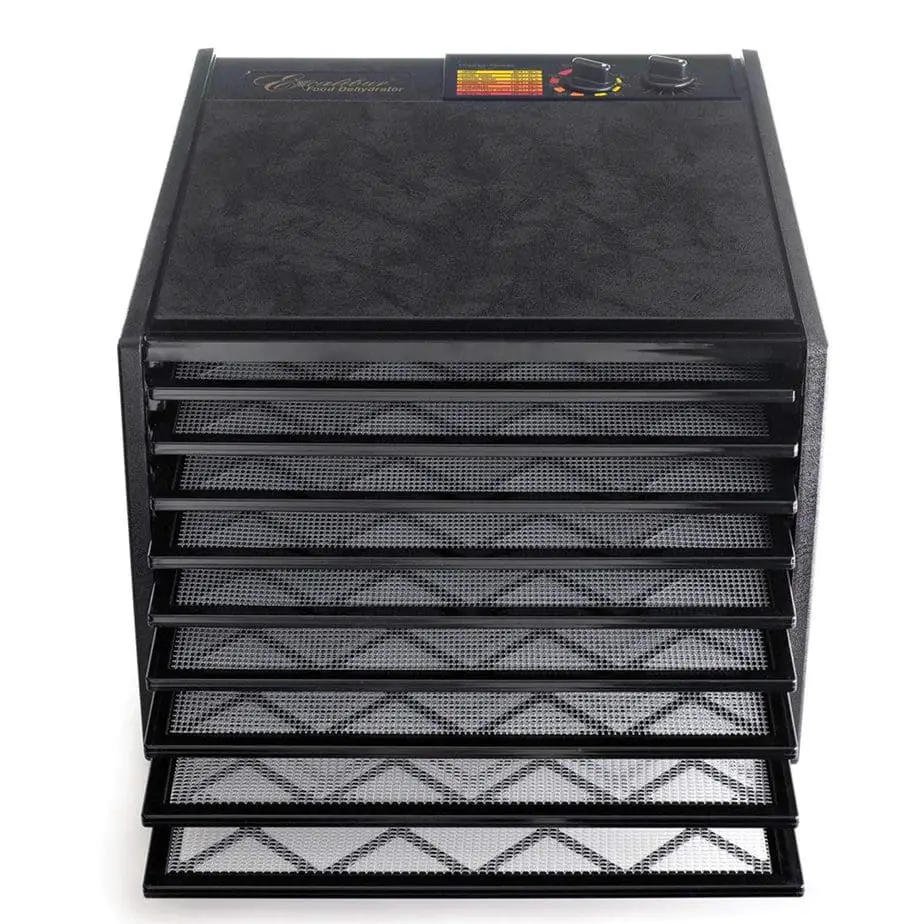 CONS
The unit gives an illusion of sheet metal with a painted texture. However, the unit is made of plastic excluding the backplate and the mechanical components. The plastic material is BPA free though.
Another downside is the awkward feeling of figuring out the best place to lift it. It doesn't have handles to hold when moving the unit.
The Excalibur doesn't have a drip tray. So it is important to line the lowest rack with aluminum foil for drippings alone. This would save you from the trouble of cleaning in the future.
Because the trays are made up of plastic, be careful when loading a lot of heavy fruits like pineapple. This will reduce the overall wear on your trays.
Although the trays are dishwasher safe, the manufacturer advice not to put them on high heat.
If you hear loud rattles while the machine is on, try taking out one or two trays. You might be overloading your trays too much and the unit couldn't handle it.
Be sure to properly secure the front cover as it may fall off from not being installed properly.
Final Thoughts
If you are having second thoughts about spending the extra money on this workhorse, be assured that it is well worth the expenditure. It could be a great investment especially if it delivers what it promises. For home use, this unit is another recommendation for you to try.
Consider checking out all the details: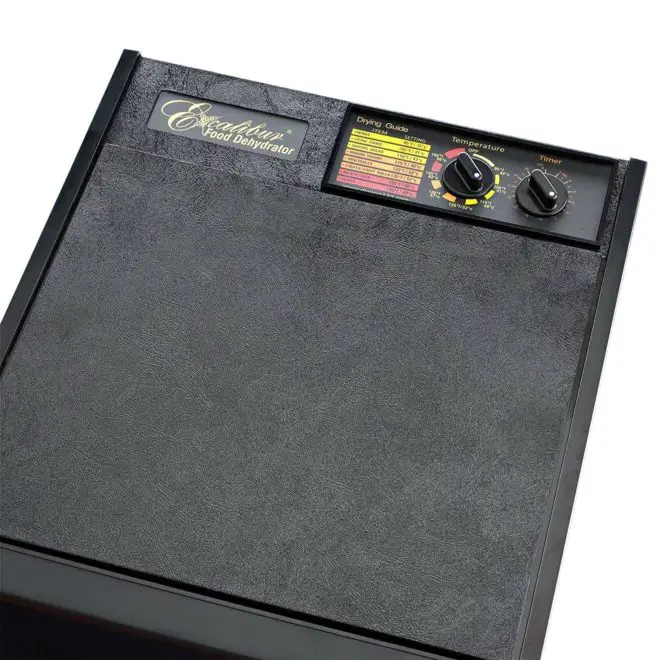 Interested? See prices and read more reviews over at Amazon