this post contains affiliate links
Would it be so nice if we could just cut up our fruits or veggies and leave them inside the food dehydrator to dry? The Gourmia GFD1680 Digital Cut+Dry Compact Food Dehydrator claims to do just that.
Gourmia® is based in Brooklyn, NY and they have been engineering cooking tools for a healthy lifestyle. They have a wide range of kitchen appliances designed for cooks and this food dehydrator is one of them.
Click the image to check price on Amazon
Gourmia GFD1680 Features
The Gourmia GFD1680 measures 12.75 inches high, 13.75 inches wide, and 17.75 inches deep and weighs 17.95 pounds. The unit comes in black and is made of ETL-certified and BPA-free plastic. It has an EasyVue door which is transparent for easy viewing.
On its top front and center is an LED Control Panel. The three buttons on the left are the time, temperature, and decrease buttons, respectively. An LED display is at the center. And another three buttons on the right are the increase, Start, and Stop buttons, respectively. All are digital touch buttons.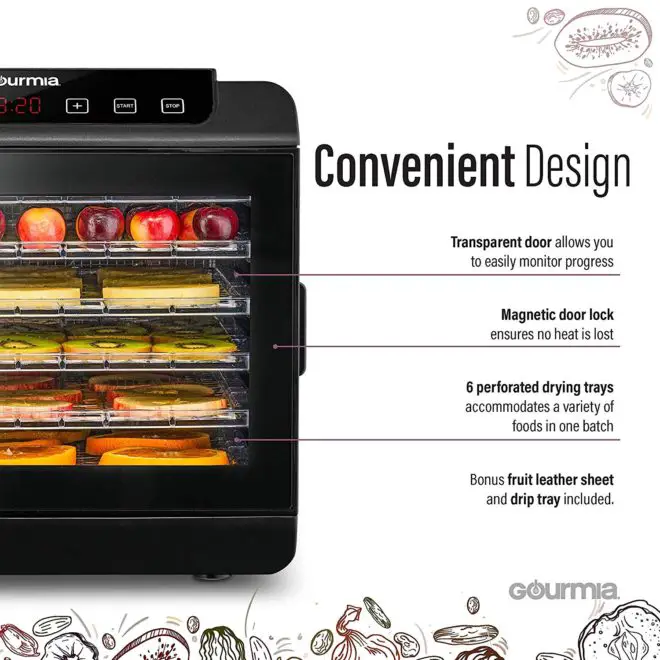 It has an Internal Automatic Fan that circulates warm air throughout the dehydrator for uniform drying. The Back Air Intake pulls air into the unit and pushes it through the dehydrator trays. Air then goes out through the Top Air Vent. Thus, it promotes 360° air circulation.
The unit houses integrated slots for six drying trays plus a Drip Pan at the bottom. The purchase comes with a Protective Food Sheet which has smaller perforations that you could use on top of a drying tray or for drying herbs or for making fruit leather. It also comes with a recipe booklet and a limited one-year warranty.
Another unique feature is its Electrical Polarized Plug which has one blade wider than the other. To reduce the risk of electric shock, the polarized plug is intended to be inserted into the electrical outlet in one way.
Pros
The 360° air circulation promotes uniform drying. No need for rotating trays or checking the dryness from time to time. It becomes true to its name Cut+Dry because it does what it is supposed to do. All you have to do is to turn it on (it beeps when you plug it in), adjust the time and temperature, and rest is hands-off.
So easy to use and takes half the time than other vertical heating or stacking food dehydrators.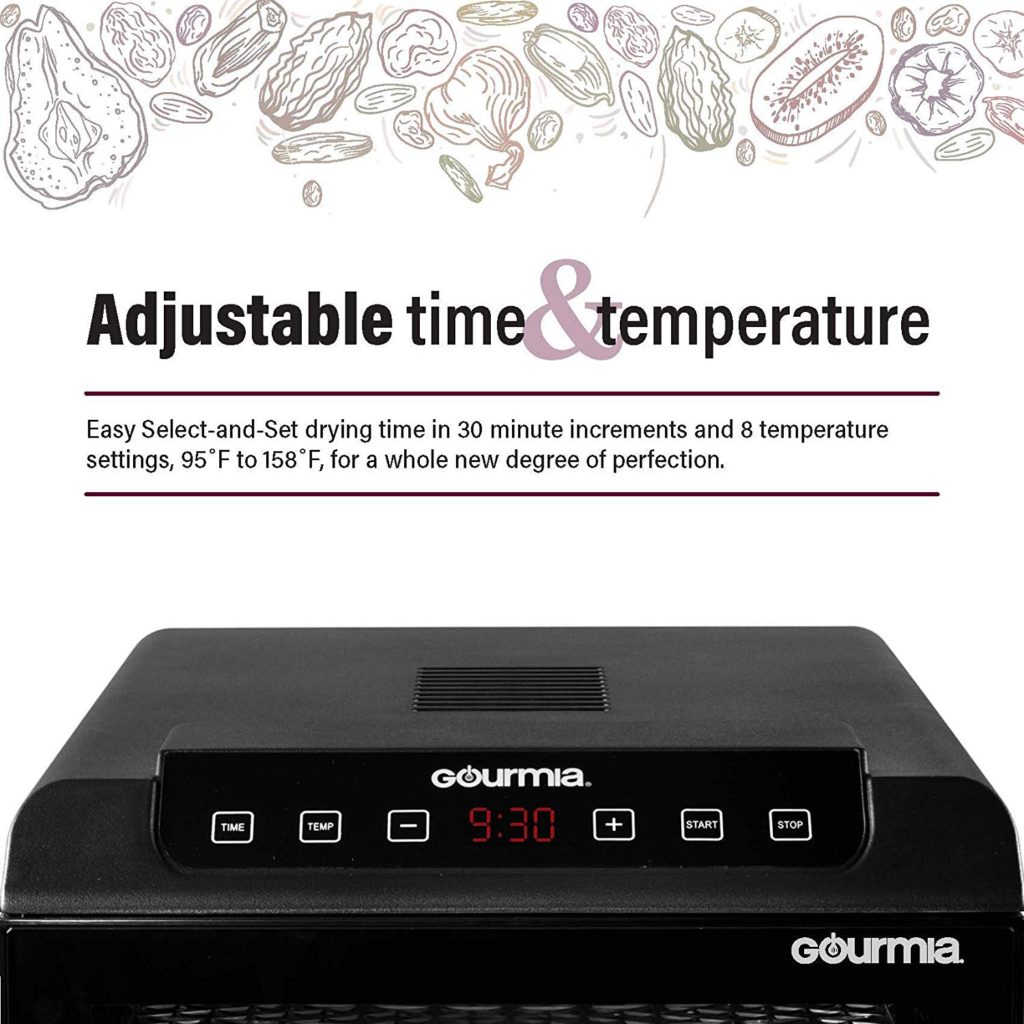 Cons
The one downside we see in Gourmia GFD1680 is the Drying Trays and the Protective Food Sheet are not dishwasher-safe. You have to clean them manually.
As to the noise, as other users mostly complain about with dehydrators, it does, unfortunately, make noise. We think that is fine but if it is a problem we recommend placing it in a secluded area of the home to reduce its impact.
Final Thoughts
Check out the Gourmia GFD1680 Digital Cut+Dry Compact Food Dehydrator and see for yourself. This could be a great kitchen investment.
Read more reviews and see pricing on Amazon