this post contains affiliate links
A Review of the Nesco FD-60 Food Dehydrator
For those who plan to start drying food at home, it is better to have a home kitchen appliance that suits a newbie in the food dehydration process. In this article, we will be giving a review of NESCO® FD-60 Snackmaster Express Food Dehydrator. We will show you how this unit could be your first ever food dehydrator at home.
This unit is manufactured by Metal Ware Corporation of Two Rivers, Wisconsin, owners of the NESCO®/American Harvest™ brand of kitchen appliances. You are assured that the unit is made in the USA.
It comes in 4 white, round, sturdy, stackable trays and a top-mounted fan lid where the fan and thermostat are located. It boasts itself of a patented Converga-Flow® drying system and its Vita-Save® exterior.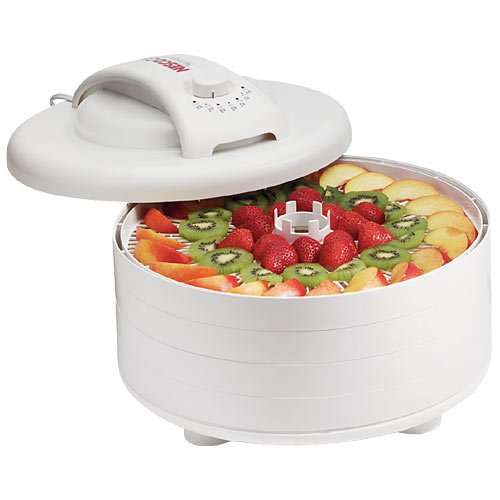 Features
It has 500 watts of food drying power, within its 13.6  x 9.8 x 13.5 cubic inches dimension. It weighs a mere 6.85 pounds. So it generates maximum speed and quality drying in hours, not days like the other food dehydrators.
It comes with 1 Fruit Roll Sheet® and 2 jerky spice packs which you could try when making meat jerky. If you want to add more trays, you may purchase additional Add-a-Trays®, Fruit Roll Sheets®, and Clean-A-Screen® in sets of 2. The Nesco FD-60 can stack up to 12 trays maximum.
The adjustable thermostat dial on top allows you to dry different foods at proper temperatures. Since the lid is where the fan is, there is no worry of liquid drippings unlike on old models with the fan at the bottom.
It has a patented Converga-Flow® drying system that forces air down at the center and spreads around inside the chamber for even drying heat.
It also has an opaque Vita-Save® exterior which helps block harmful light that can destroy food nutrients.
The Fruit Roll Sheet® has an exclusive "no-spill" lip that allows you to dry up to 3 cups of puree per sheet. This is great for making fruit leathers and for drying liquids like sauces.
The Clean-a-Screen® is a reusable plastic mesh insert that is perfect for drying small items such as spices and herbs that would normally fall through the trays.
Pros
You can make granola bars, fruit leathers, meat jerky, dried fruit candies, and dried vegetables with the NESCO® FD-60 Snackmaster Express Food Dehydrator.
With its powerful drying power, it only takes hours of drying instead of days. Because of that, there's no fear of mixing flavors and odor inside the chamber. No need to rotate trays for even drying.
The top-mounted fan has an adjustable thermostat dial which is easy to use. A temperature guide is also printed on the lid. Use it heavily during harvest season and at least once a month during the lean season.
It runs quietly and dries evenly and well. The user guide also comes with great recipes that you could try.
The plastic tray is flexible that it is easy to clean and can be a spout for transferring dried food into containers.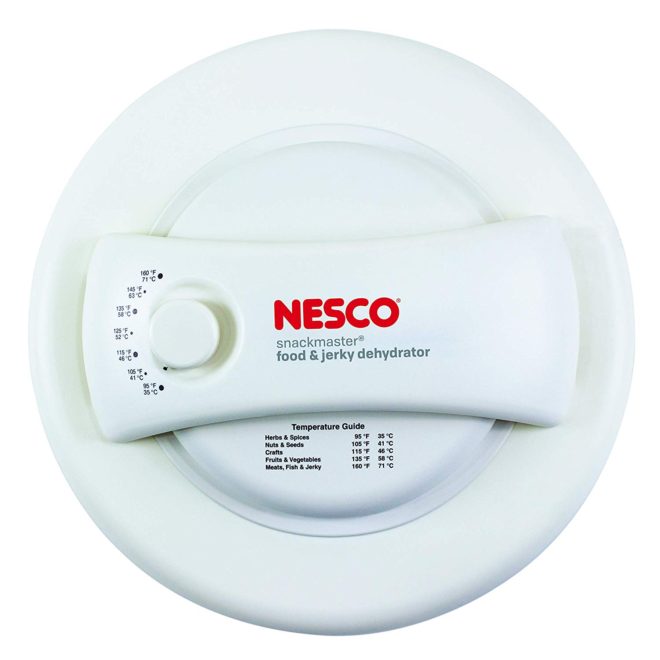 Minor Downsides
The first downside of this model is the absence of a power button that switches it on and off. You have to plug it in and unplug to shut it off which is kind of strange for a home kitchen appliance.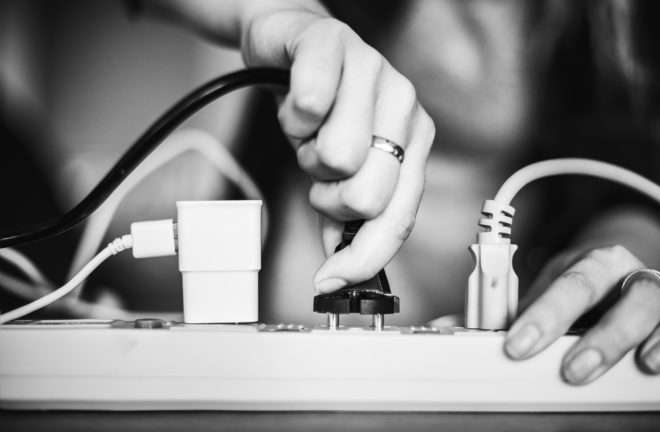 Another downside is the absence of a timer. So you'll have to get your hands on a timer. You can use your phone or stove so its not really a deal-breaker for us. 
You have to take note of how thick your slices are. The tray can only accommodate a certain level of thickness in order for them to close completely. If your slices are too thick, it will create gaps between the trays although it could still dry the food. The trays don't have a latch or anything that would lock them into place. That being said, in order to get a great result with any food dehydrator, you'll want to keep your slices thin. 
The instruction says not to use the unit outdoors. Like most electronics, they don't like water. Therefore if you're going to take this outside or on your camping trips just make sure it stays away from water. 
Some users complain of the trays not cleaning nicely in their dishwasher. So they wash the trays manually. We recommend cleaning the trays manually as it will reduce the wear of the trays.
The unit does make some noise but it's a small device and most users don't seem to be bothered by it.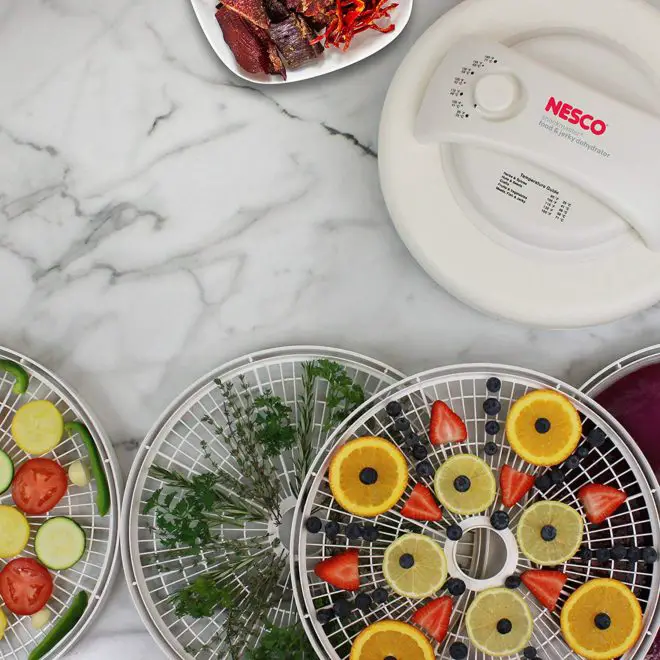 Final Thoughts
Despite its downsides, the NESCO® FD-60 Snackmaster Express Food Dehydrator is a good unit to start with for food dehydration at home. It works as advertised, it doesn't cost much, and great for those who want to try food drying for the first time.