this post contains affiliate links
Ivation 6-Tray Premium Electric Food Dehydrator Machine
Dried fruits, jerky, and fruit leathers are becoming trendy healthy alternatives to commercial junk foods. And you can make homemade healthy snacks by using an affordable food dehydrator like the Ivation 6-Tray Premium Electric Food Dehydrator Machine manufactured by Ivation.
Features
The unit measures 17.71″ high, 13.58″ wide, and 12.40″ deep. It has a rear-mounted fan designed to promotes uniform drying and an optimal airflow that prevents overheating. It has an adjustable thermostat that automatically shuts off to ensure that foods are dried perfectly. It has 6 13″ x 12″ drying racks that could accommodate fruits, herbs, vegetables, and meat.
Aside from the 6 trays, it also includes 1 non-stick fine-mesh sheet for drying small pieces like herbs and 1 solid sheet for fruit leathers. It also has a drip tray that collects drippings during the drying process. The unit complies with the US Electrical Safety Regulations ETL so there's no worry in using it at home.
Click the image to check price on Amazon
Pros
A 480 watts drying fan stands on the back of the unit and its airflow promotes uniform drying so there's no need for you to rotate the trays.
On top, front and center is the digital thermostat and timer. Its temperature ranges from 95°F to 158°F and has a preset adjustable thermostat. Its timer has up to 19 and a half hours of drying time which is adjustable in 30-minute increments. It also has an automatic shutoff feature that ensures food has dried to its optimum temperature and texture. Thus, you don't have to worry in case you forget something is drying in the kitchen.
Each tray measures 13″ x 12″ that can carry a pound of meat, fish, poultry, fruits, vegetables, and herbs.  It is made of BPA-free plastic materials that are dishwasher safe and easy to clean.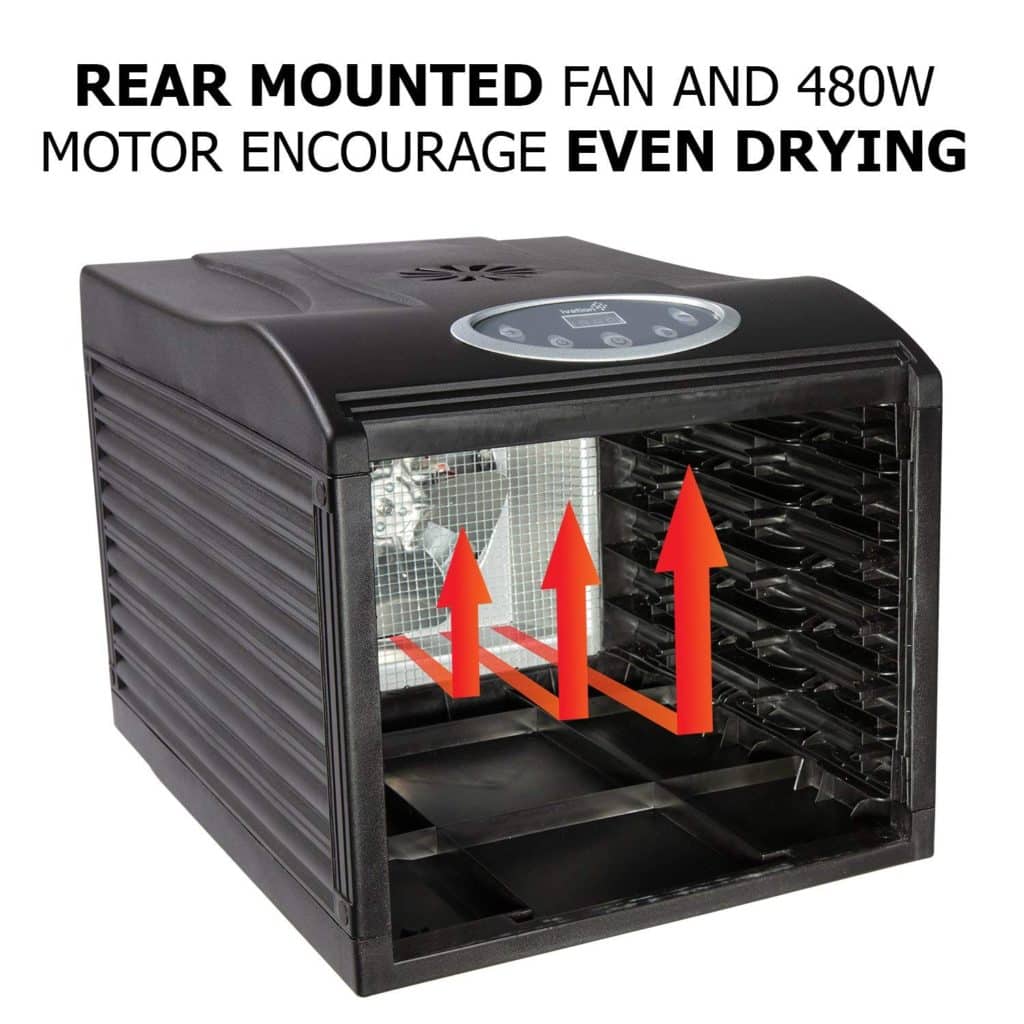 Cons
Just like other food dehydrators, the noise has been the foremost complaints of many users. It has a tinny fan clang that some may find to be annoying.
The timer goes by the increments of 9 which could be a minor annoyance if you're drying some sensitive fruits or vegetable pieces. However, you could solve this by lowering your drying time a little bit.
Example: if you would dry at 125°F, it does at 122°F. Now I know why its highest is at 158°F instead of 160°F.
The temperature is adjustable through 6 preset modes. You can play between the timer and temperature to get the perfect outcome.
Final Thoughts
So far, despite a few drawbacks, the Ivation 6-Tray Premium Electric Food Dehydrating Machine works as advertised. It could be compared to other high-priced food dehydrators but could be just as powerful and efficient with a little less than $100 price. – See on Amazon
If you would like to get to know more food dehydrators, check out our other recommendations.