For the past few weeks, we've been discussing food drying as a method of food preservation. we've written different guides on what to look for in a dehydrating machine or how to dry fruits, vegetables, and herbs.
In this article, we would be discussing the 6-tray Magic Mill® Food Dehydrator Machine. This unit is readily available on Amazon.
This post contains affiliate links
Features of the Magic Mill Food Dehydrator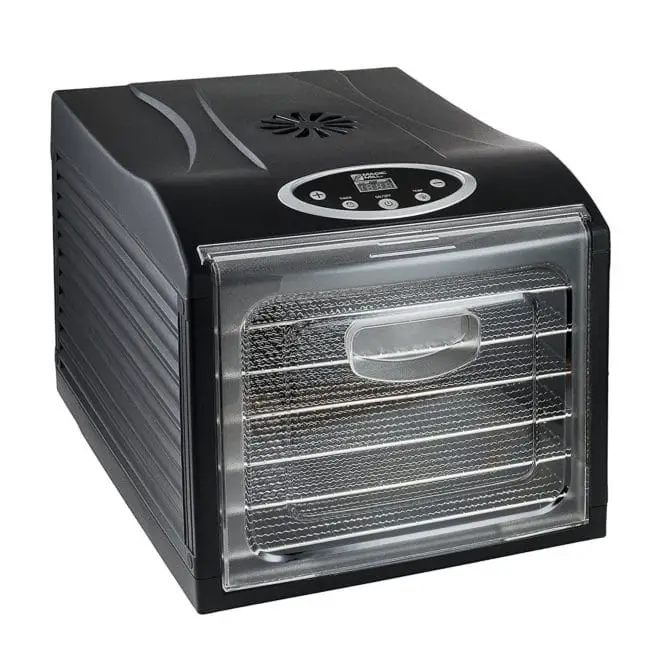 This unit comes in black and is BPA-free. Aside from having 6 plastic drying trays with mesh-like patterns at the bottom, it also comes with 2 plastic fruit leather trays and 1 fine mesh sheet. You can find this whole package is impeccably priced.
Front top and center is a small digital screen to view the temperature and time. Below the screen is the power switch. On the left of the screen is the up button to increase temperature or time while on the other side is the down button. Another button on the left says timer which you press if you want to adjust the time. On the other side is a button that says temperature which you press if you want to adjust the amount of heat needed to dry food.
Just behind the digital screen is the air vent where dry air from the inside escapes. This unit is a horizontal airflow type dehydrator, therefore the fan is mounted on its back. It provides even drying without the worry of overheating. And with the adjustable digital thermostat and timer, it automatically shuts off when food drying is done.
The 6 plastic trays measures 13" x 12" and could accommodate a wide variety of foods. It is great for large quantities especially when drying abundant harvest.
Below is a diagram defining all the parts of the Magic Mill dehydrator. You can see more details on the website.
Magic Mill Food Dehydrator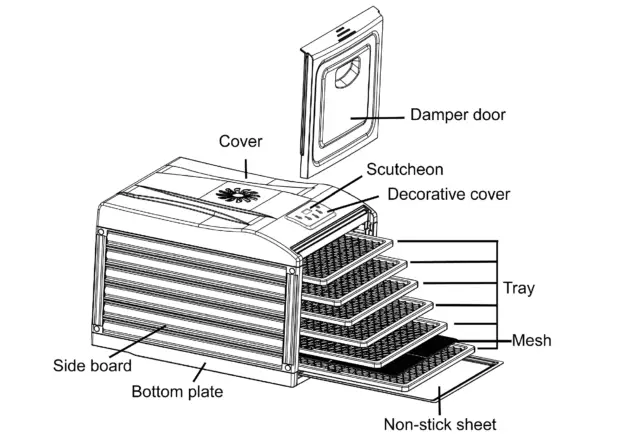 Pros of Magic Mill Food Dehydrator
Versatility
According to the seller, Royal Lux, Inc., all Magic Mill® products are BPA-free. It is efficient, easy to use, easy to clean, and therefore, user-friendly. The digital controls are very visible. The countdown timer seems intuitive. The trays fit well. We checked with a thermometer if the unit's temperature is correct and yes, it is! It seems that it works well as advertised.
Build Quality
This dehydrator is of excellent quality and build. The robust build is not overwhelming in size and won't take over your kitchen counter space.
Horizontal Air Flow
The fan is vertically mounted on the back. A fan mounted in this position allows for a horizontal airflow which is great for getting all contents of the dehydrator machine to dry evenly without any burning.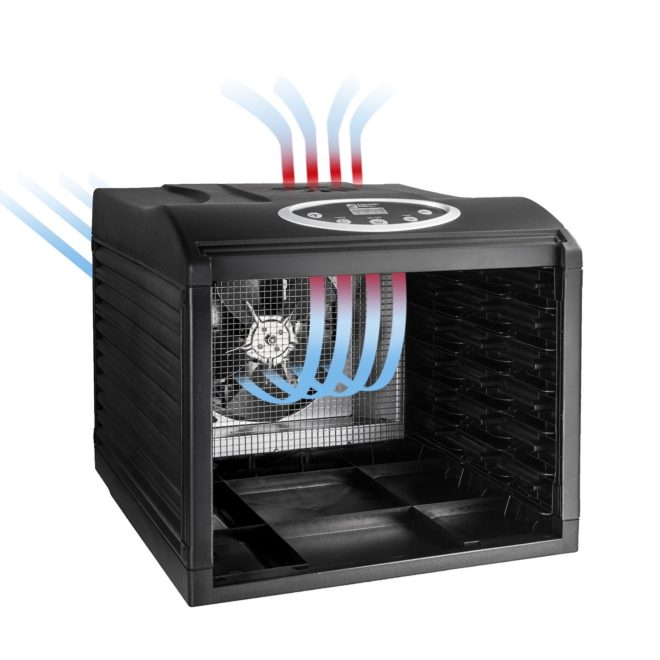 Efficiency
The Magic Mill dehydrator is very efficient and only draws around 480 Watts. The thermostat can reach temperatures between 95°F to 158°F. Its ability to sustain those temperatures for prolonged periods of time is what makes the drying process hassle-free.
Cons of the Magic Mill
But nothing is perfect in this world. Despite its good features and benefits, one seems to notice a little bit of its downside.
For one, we can't find this particular model on the manufacturer's website. However, if you ever lose the instructional manual, we happen to have found it. There a digital version that you can view directly from the Amazon website.
According to the manual, the parts are NOT DISHWASHER SAFE. Not a deal-breaker but it would be nice if they were.
Final Thoughts
So far, Magic Mill® Food Dehydrating Machine meets the expectations of a home kitchen appliance. It may have a downside or two but overall, it's one of the best food dehydrators whose minor drawbacks really don't affect it that much.
Should you be interested to get one, click here to check price on Amazon