Many articles ago, we featured a 9-tray food dehydrator by Excalibur® on this site, the 3926TB to be more specific. But if you're new to food drying, you may probably say, "9 trays may be a little too many, is there something smaller than that?"
Yes, there is. The Legacy Companies USA, the owner of the Excalibur® brand, has a complete line of food dehydrators. One of them is the Excalibur 3526T series which is almost similar to the one we previously featured.
this post contains affiliate links
Features of The Excalibur Dehydrator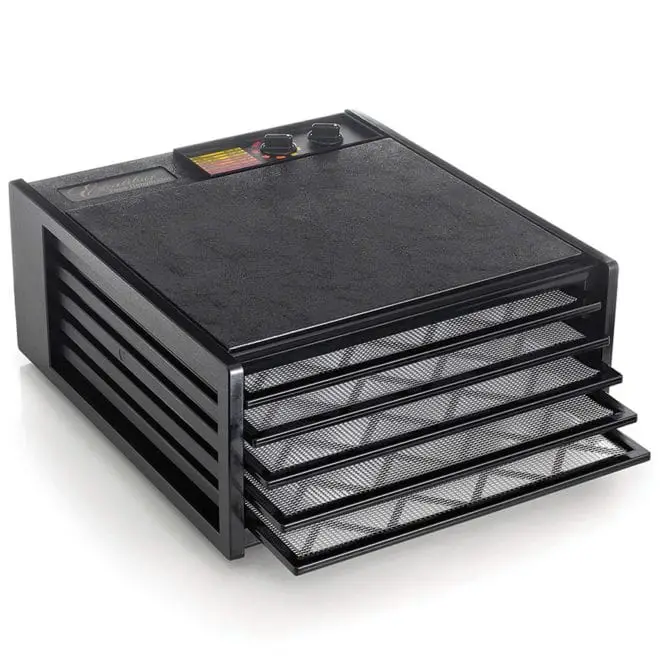 The unit comes in two colors: black (3526TB) and white (3526TW).
It measures 8½" high, 17″ wide, and 19″ deep. It weighs 15 pounds and is made of food-grade, high-quality, BPA-free plastic.
Each of the 5 trays measures 15″ x 15″ and is also made of plastic. Although it claims that the trays are top-rack dishwasher safe, the manufacturer advises on its manual to clean the trays manually instead especially for the non-stick sheets and avoid using harsh chemicals or abrasives in cleaning.
The Excalibur 3526T comes with a 26-hour timer and adjustable thermostat. The temperature ranges from 105°F to 165°F and the 5″ fan comes with 440 watts of power for increased air circulation.
The purchase includes a Guide to Dehydration book valued at $6.95 and a limited 10-year warranty.
For customers outside the United States whose voltage is much different (220v), they need to purchase the models 4526TB220 for black or 4526TW220 for white with the proper plug type from a local distributor. The warranty will differ from country to country, though.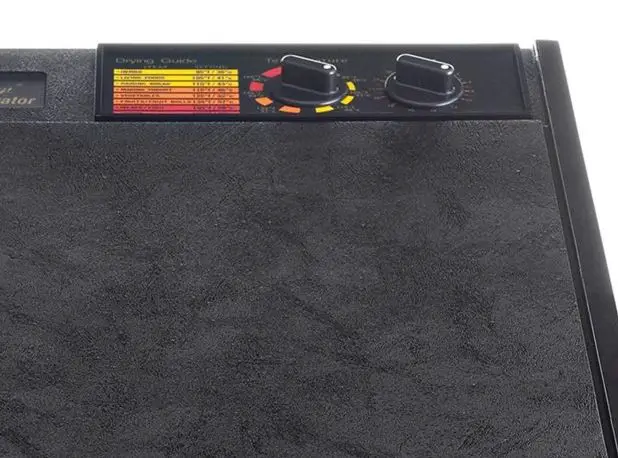 The Pros
The 5″ rear-mounted fan is for excellent air circulation. Excalibur®'s patented Hyperwave Technology and horizontal Parallex drying removes water from food with a continuous air circulation that is thermostatically-controlled. This makes the Excalibur® food dehydrators efficient and user-friendly. This model is perfect for families with small gardens.
It is also easy to use for beginners. With the Guide to Dehydration book, you can learn how to dehydrate all types of foods — fruits, vegetables, herbs, spices, meat, and even raising bread.
The Excalibur® 3526T series comes with flexible poly screen tray inserts to prevent foods from sticking to trays.
The Cons
As with almost all food dehydrating machines, users complain of one thing: noise.
The noise issue is relative. Meaning, what may be too noisy for you may not be too noisy for others. Others say that it is about half as loud as a typical hairdryer. Since everyone has a different house it's hard to tell. The best solution would be to put it in a room of its own or even in the basement. We believe this solution is optimal since it takes a few hours to dehydrate food.
But one downside that we could say is the size of this 5-tray model is perfect for a 2-person household, not for a big family.
As we mentioned earlier, we featured the 9-tray model before and here's a "comparison":
| Excalibur® 3926TB | Excalibur 3526T |
| --- | --- |
| | |
| Excalibur 3926TB 9-tray  | Excalibur 3926TB 5-tray  |
| 12.5" high x 17" wide x 19" deep | 8.5" high x 17" wide x 19" deep |
| Rear-mounted fan | Rear-mounted fan |
| Limited 10-year warranty | Limited 10-year warranty |
|  Amazon | Amazon |
Final Thoughts
Basically, there are no major differences between the 9-tray and the 5-tray except for the size. If you're considering this unit to purchase don't hesitate. Your money will come a long way. This is recommended for home use and it's great for beginners. Although it may be noisy, the machine does a great job of drying.