Presto 06301 Dehydro Overview
If you're a beginner in food dehydration, it is natural that you're thinking of having a good food dehydrating machine to start with at an affordable price. Right? There are available food dehydrators that cost less than $100.00 and this is one of them: the Presto® 06301 Dehydro™ Digital Electric Food Dehydrator.
With this kitchen appliance made by Presto, you may be able to make dried herbs and vegetables, fruit leathers, and meat jerky at an affordable price. This is a recommended food dehydrator for beginners.
But before you proceed reading about the Presto 06301 Dehydro, if you're not yet familiar with the principles of food dehydration, we suggest that you read this guide first.
Features
This food dehydrator measures 14.5″ high x 15″ wide x 7.25″ deep. It weighs 8.5 lbs. and is made of durable BPA-free plastic materials. And if you're concerned about its electrical output, it's 120 volts AC, 750 watts, 60 Hz.
It has a digital thermostat and timer located at the bottom that monitors drying time and temperature. The temperature ranges from 90°F to 165°F. While the timer can be set up to 48 hours which shuts off automatically to prevent over-drying.
It has a bottom-mounted fan and heating element which provides consistent airflow required for drying. Air circulates within the chamber thus, no rotation of trays is needed. More so, it's see-through top cover allows you to monitor the drying process.
It includes 6 drying trays, 2 fruit roll sheets, 2 non-stick mesh screen trays, and a cover. All of these are dishwasher safe. Items can be shipped within the United States and some selected countries around the world.
Click the image to check price on Amazon
Pros
The Presto® 06301 Dehydro™ Digital Electric Food Dehydrator has a big drying capacity because it can expand up to 12 trays. When not in use, these drying trays can nest which can reduce storage space. Also, the cord itself is stored at the base.
Accessories like the dehydrating trays, fruit roll sheets, and non-stick mesh screens are available and sold separately.
The digital timer shuts off automatically when the time is up. No need to worry about over-drying if in case you forget about it.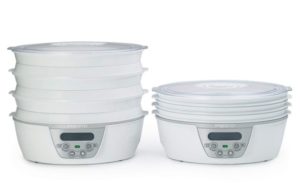 Cons
We've noticed that the control settings of the timer are in 30-minute increments while the thermostat has a 5-degree increment on the temperature. That would be a challenge if you would like to set your timer like 1 hour and 20 minutes, for example. But if you start the unit at zero, it will count up and remain running.
Since the unit has its heating element and fan at the bottom, and the company advertises it as a device that will dry your ingredients evenly. This may require some slight adjustment during the drying process.
With its bottom-mounted fan and heating design, air tends to circulate from the side to the center and back to the base. It is possible that pieces near the edge and at the bottom rack dry more quickly than those pieces at the center and on the top rack.
To fix this problem, you need to rotate the trays. Put the bottom tray on top, and move the top rack to the next, and so on. You may do this every 2 to 3 hours until you get even drying results.
Another possible problem is with drippings. Since the fan and heating element are at the bottom, it could suffer from wetness from those drippings which may cause its own breakdown. One solution that we suggest is to place a fruit leather sheet at the bottom rack. You may cover it with an aluminum foil to collect all the drippings.
Final Thoughts
Despite its minor downsides, the Presto® 06301 Dehydro™ Digital Electric Food Dehydrator is an affordable food dehydrator for beginners who would like to try drying without spending too much. With some proper practice and adjustment, this affordable dehydrator will be working overtime for you and definitely give you your money's worth.
Overall, the pros outweigh the cons and at for the price, this is a real bang for the buck. This dehydrator has stellar reviews as well which makes it even easier to recommend since so many other people can attest to how great it is. 
If you are still looking for other food dehydrators and would like to compare some, check out our other recommendations.